Before releasing a final product, we run it through a live test in our own testing facility. 
Development and design
Control of the entire development process guarantees that all activities support your business
Test and commissioning
We perform detailed ongoing quality control of all steps in the production process
Documentation and service
All our customers benefit from complete confidentiality and protection of sensitive data
Update: Sill good growt in the medicoindustry >>
At the test centre we have installed our own injection moulding machines in sizes ranging from 50 to 175 tonnes of mould closing pressure. We test all the tools we produce in accordance with the customers' or our own instructions and collect data throughout the test.
We take care to send the required number of plastic pieces for inspection and measuring. If requested, we can forward plastic items to a third party's injection moulding factory so that all parties involved in the project are kept up-to-date with progress and quality. This is a service we are happy to offer.
Our experienced team of plastic process technicians and toolmakers give you the competent, technical service you need for tool tests and controls. This service is provided in connection with data collection and the final transfer of the project.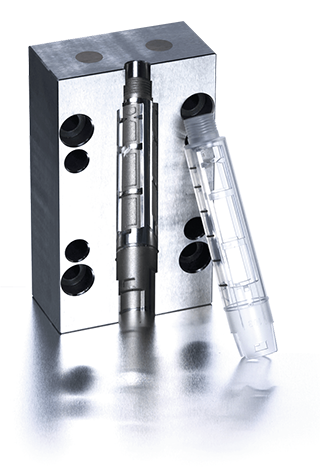 We thoroughly test our tools
– so you are guaranteed smooth commissioning
Færdige produkter udsættes for en 'live' test i vores egne testfaciliteter. Ved at teste værktøjet under produktionsforhold, som ligner dine, sikrer vi, at kvaliteten også holder i den virkelige verden.
Number of cavities produced per year
Represented on four continents